The History of Cal & Jensen Marine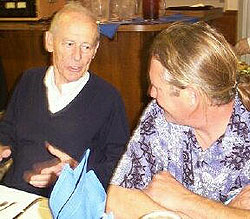 Founded by Jack Jensen in 1956, Cal Yachts was originally named the Jensen Marine Corporation and was considered a pioneer in fiberglass boat building. Jensen Marine first sold the centerboard Lapworth 24 designed by Bill Lapworth (photo at left) . The Lapworth's 24 sold well. The name was first changed to California 24 and then Cal 24. The name Cal stuck with the company until it closed in 1986.
The Jensen-Lapworth collaboration resulted in some amazingly competitive racer/cruiser sailboats, the most famous of which is the Cal 40.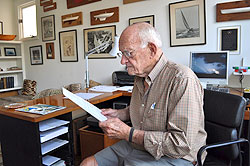 The CAL 40
The first of the ultra-light, production ocean racers, the Cal 40 was inspired by ocean racing legend, George Griffith (Photo at right), of the Los Angeles Yacht Club, and was purportedly first sketched by him in 1962 on the back of a cocktail napkin.
Following Griffith's inspiration, the Cal 40 was designed by the prolific and ground-breaking naval architect, C. William "Bill" Lapworth and was lofted by Willis Boyd. A major undertaking for its time and radically different from other production racing sailboats with its fin keel separated from a spade rudder mounted well aft, the Cal 40 continues to rack up an impressive string of ocean racing victories more than four decades after its initial launch, winning major competitions such as the Newport-Bermuda Race as recently as 2008.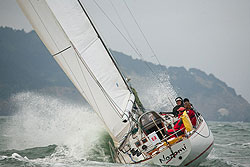 Among other ocean racing classics, Cal 40s (see photo at left) still compete as a class in the Transpac from Los Angeles to Honolulu and in 2005 recorded 14 entries, more than any other production sailboat at any time in the century-long history of this, America's longest-running ocean yacht race.
More Cal history
Not all boats branded as Cal were Lapworth designs. For example the Cal 9.2 was designed by Ron Holland, and first appeared in Europe as the Jeanneau Rush 31. Jenson purchased the license to build the boat and marketed it in the USA under the Cal brand.
If the PHRF ratings of Cals are compared to those of recent hull designs it will be found that the Cal designs are relatively fast boats. This is one of the reasons these ruggedly built and surprisingly affordable boats remain popular fifty years after they first appeared in the recreational marine marketplace.
Jack Jensen sold his company to Bangor Punta Corporation in 1968. Jensen later produced Ranger sailboats and a line of molded fiberglass recreational vehicles.
Bangor Punta moved the Cal Yacht factory to Tampa, Florida in January of 1980. The factory remained in Tampa until March of 1985. It was then moved to Fall River, Massachusetts and was managed by Jim Hunt, son of yacht designer C. Raymond Hunt. Bangor Punta also owned O'Day Yachts and Prindle Catamarans.
Later there was Siegler Marine, Starcraft Sailboat Products, and then finally just Cal Boats. So if we include all the later takeovers, Cals continued to be built until 1989.